TDA has released its 2022 Outlook for the analytical instruments industry, looking back over 2021 and providing forecasts and predictions for 2022.
Reflecting on 2021, TDA highlights that we saw a year of positives and negatives – COVID-19 vaccinations, declining death rates, and a recovering economy – all bringing cause for optimism. On the other hand, new SARS-CoV-2 variants, continued supply disruptions, and increasing inflation have tempered these gains.
Looking forward, considering global economic factors, as well as factors more specific to the analytical instruments industry, the outlook for 2022 is for positive overall, showing the beginning of a return to normalcy.
We are delighted to share information from this market report published by TDA, which provides insights on the economic factors that are driving growth and impacting instrument sales.
Statistics from 2021
The lab and process analytical instruments industry grew 20% to $81.2 billion in 2021. TDA breaks down the technology segments, geographic markets, and end markets which all posted double-digit gains in 2021.
Lab instruments witnessed double-digit growth.

Process Analytical Instruments (PAI), and lab enclosures and furniture markets saw increases of mid-single digits.

The pharma/biopharma application sector stood out with double-digit growth, in response to the pandemic-related increase in need for drugs and vaccines.

By region, the demand from Asia rose the fastest.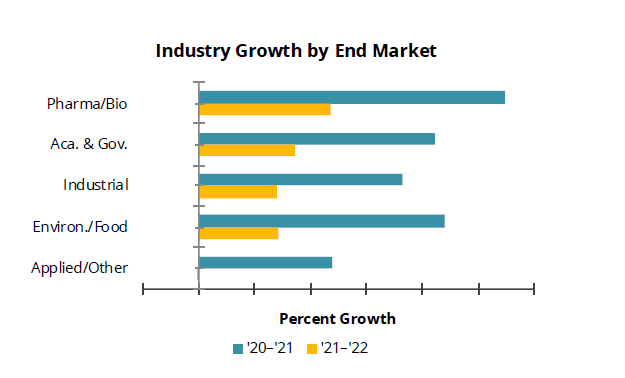 Vendor share
Each of the 10 leading companies exceeded revenues of $1.5 billion for 2021. Most of these firms' offerings are diversified across multiple technology segments.
The top 50 vendors in the lab and analytical instruments industry represent more than three-fourths of the $81.2 billion market in 2021.

The 10 companies with the highest revenues cumulatively have more than half of market share, with 11-20 having combined revenues accounting for more than 10% of the market.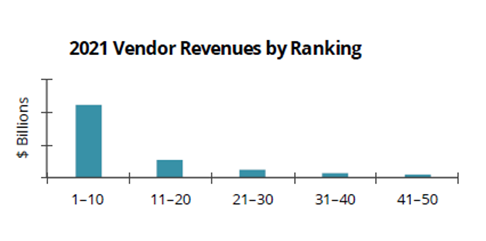 Specific analytical instrumentation sector performance in 2022
Looking broadly by market, TDA predicts that lab instruments will see modest growth across all sectors. Growth is particularly significant in the chromatography sector, mass spectrometry (MS), lab automation and lab equipment sectors, with regional markets in Asia driving demand. Other sectors to note include the life science instrumentation which has seen a boom of growth driven by a large increase in demand in the academic and public sector markets. In 2021, and going into 2022, we have seen and expect to see strong levels of growth across all sectors of the specific analytical instrumentation industry in 2022. It is certainly an exciting time to be involved in the industry.
2022 outlook
Growth, while strong, will be relatively subdued compared to 2021; however, there are grounds for optimism when forecasting the instrumentation market trends for 2022. The overall analytical instruments industry will see a 7.5% increase in growth, to reach a total of $87.3 billion. And although the industry will perform well, growth of all technology segments will slow in comparison to the double-digit gains in 2021.
Lab instruments and PAI will rise in demand, growing by 7.7%, and 5.5%, with their markets growing to $80.7 billion, and $4.6 billion, respectively.

Lab enclosures and furniture will also see demand climbing 4.3%, with revenues increasing to $2 billion.

Life science, microscopy, and molecular spectroscopy segments will lead industry growth, expanding by high single digits respectively.

Continuing on its consistent growth trajectory, China will lead geographic markets; however, North American demand will increase notably too.

The pharma/biopharma end market will continue to see the effects of the pandemic, resulting in the greatest growth.
Making the most of market insights
Market insights are invaluable for planning and strategy for the coming year. Nobody can predict the future, but informed decisions based on this kind of market insight go a long way in ensuring your plans are monetising the growth you are aiming for, and help you to focus clearly on the best opportunities for analytical instrumentation in 2022.
Thanks to Glenn Cudiamat for allowing us access to the TDA report: 2022 Outlook Analytical Instruments Industry, which you can buy here.
We work closely with clients in many of the segments outlined in the report and help companies to communicate better with their complex audiences to grow awareness, change perceptions, generate demand and ultimately, grow market share, in China, North America and Europe.
Contact us to find out more about communicating with global laboratory markets.
About TDA: ​TDA is a leading provider of competitive intelligence (primary and secondary research) and benchmark data for scientific products, chemicals/reagents, consumables, automation and analytical instrumentation used in laboratory and process industries. TDA focuses on providing decision-making information to the leaders of scientific technology companies. Its dedication to the field allows it to offer clients a level of detail and insight that comes from constantly monitoring industry developments and from our ongoing market research projects and publishing activities.