Data taken from: A Stragmar Report. Views from the Top: Is healthcare marketing fit for the future?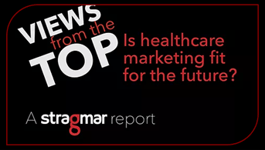 The past two years, dominated by the Covid-19 pandemic, have highlighted how healthcare / pharmaceutical organisations must be able to adapt rapidly and plan for change in order to survive. This should also be reflected in their marketing strategies.
Stragmar has published a new report on whether healthcare marketing is fit for the future. The report gathers the views of more than 100 leaders in healthcare marketing, to understand how well-prepared organisations are to adapt as market demands evolve. Some of the key findings that we found interesting include:
1. The next 10 years are key
Covid-19 has accelerated change across all industries and many businesses have had to transform to keep up (offering remote working, telemedicine, etc). So, it's no surprise that almost half of the 100 leaders surveyed agreed that the next 10 years will be more transformative for marketing than the previous 30 years. Additionally, a large majority of participants agreed that omnichannel is a necessity for marketing to thrive, while some believed that the influence of patients will be more important than health care providers (HCPs) in 10 years.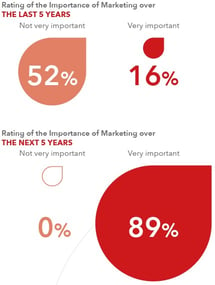 2. The importance of marketing
Of those surveyed, 89% think marketing will be very important over the next five years. This increase, compared to the last five years where 52% felt that marketing was not important, is driven partly by ongoing maturation of the industry, along with the increasing competitiveness and innovation of organisations and their marketing strategies. Responses to who owns marketing activity within the organisation suggest that cross-team collaboration, coordination and trust will be crucial for integrating marketing strategies across functions, such as marketing and sales.
3. Will creativity and innovation be our saviour?
Traditionally, a psychological and conservative pressure has restrained the creativity of healthcare marketers. And survey participants backed this claim, with 80% rating the creativity and innovation in healthcare marketing between poor and average. The current approaches mean that many have been resistant to change. Now should be the time to innovate and re-think creative strategies, drawing inspiration from other sectors.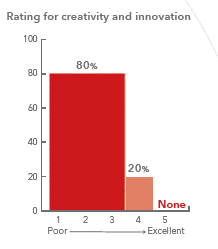 4. What might be stifling innovation and creativity?
Worryingly, 50% of survey participants felt that 'real marketing' was alien to the healthcare sector. Issues that were hard to overcome for marketing teams when looking to innovate included, 'Dealing with regulatory affairs and legal restrictions,' 'Data and privacy,' and internal issues such as fear and new ideas not being taken seriously.
The report states, 'Healthcare marketers are often healthcare first and marketers second,' which highlights a significant barrier to innovation and creativity in the sector currently, but something that can be overcome with an organisational shift towards a marketing-driven strategy.
5. Don't believe the hype on digital
Over half of survey respondents described their organisation as being 'behind the curve' when it came to digital marketing activities. Technological innovation will continue to accelerate, and marketers should look to be ahead of the digital curve if they are to operate on the same level as their customers.
6. The rise of the omnichannel
Omnichannel is defined as an integrated and connected approach across multiple channels of communication. Though only 13.5% of participants were fully running omnichannel strategies, 90% recognised the need to be omnichannel going forward. Not only does this give customers a seamless experience, but it also increases exposure to new customers.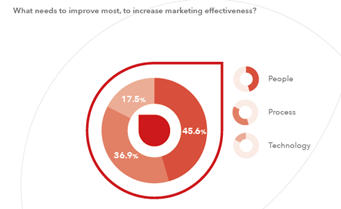 7. We need to be people people
With the healthcare industry typically relying on product innovation driven by scientists and engineers, marketers have often been left to one side. Over 45% of those polled agreed that to accelerate healthcare marketing as it currently stands, people must improve their ability to work cross-functionally. If we can transform the way people work to use marketing to their advantage, then an organisation will gain in the competitivity stakes.
A positive future
Clearly, ambition is required to build on the current state of healthcare marketing. As the report authors point out, lessons can be learned from other sectors, innovating across different channels will be crucial and marketing towards patients and customers, rather than simply marketing a product, will all be important factors in the coming years.
With the successful implementation of a strategic marketing roadmap, b2b healthcare businesses can appeal to a wider audience, while also gaining leads that wouldn't have been captured elsewhere.
Thanks to Baba Awopetu for allowing us access to the Stragmar report 'Views from the Top: Is Healthcare Marketing fit for the future?', which you can access here.
About Stragmar
Stragmar is a growth-focused strategic marketing consultancy that helps healthcare and medical technology organisations maximise value. It understands the ever-changing environment, and helps clients energise their marketing to delight customers and achieve profitable growth. Stragmar's 360 approach means importing the latest thinking, techniques and approaches from adjacent industries, academia and best practice.
Need help with your healthcare marketing strategy?
TSP's 25 years' experience in life science marketing can support your organisation to build on your current marketing activity and access a wider audience through multiple channels, such as LinkedIn, podcasts, trade media, and inbound marketing strategies. We support clients to better communicate with their complex audiences to grow awareness, change perceptions, generate demand and ultimately, grow market share. Our business can support you globally with services into China, Europe and North America.
To find out more about communicating with global pharmaceutical and life sciences markets, contact us.