Data taken from Instrumental Business Outlook (IBO) Analytical Instrument and Lab Product Industry Forecast.
In its January 18th, 2022 issue, IBO forecasts that overall industry revenues will increase 4.4%. This summary of the newly published IBO 2022 forecast report focuses on the factors that seem to be driving this growth, as well as specific sectors making their mark. It is important to note that it is likely that IBO will revise these forecasts in light of the Ukraine conflict and its impact on global trade.
The forecast usefully segments the market by vendor, by segment, and by product type, as well as looking at geographic split. Because the reports are so comprehensive, in this blog we will summarise the technology opportunities, and in a second blog we will report on the macro-economic trends. Overall, the picture is one of growth for the lab instrumentation market in 2022.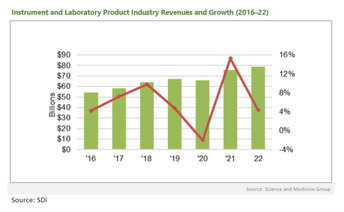 Here we summarise IBO's expectations for key technology segments during 2022:
Mass spectrometry (MS)
In 2022, 6.9% growth is forecast, with demand driven by the pharma and biotech markets, specifically drug development.
Chromatography
IBO highlights the strength of the chromatography market.
With such a large install base, the market has a greater spend on aftermarket (55%) and services (12%) than on initial system purchase.
Laboratory automation & software
IBO's 2022 report anticipates moderate growth for the lab automation market, which includes LIMS, ELNs, robotics, informatics and liquid handling etc.
HT (high throughput) instrumentation will continue to dominate.
Surface science
The surface science market experienced a strong rebound in 2021, up 21.1%. This was distributed broadly across all market segments, with the confocal and advanced microscopy markets leading as labs reopened.
Molecular spectroscopy
In 2022, the market for molecular spectroscopy (encompassing 10 individual technology groups) is projected for steady growth of 5%.
Raman spectroscopy, polarimetry, refractometry, and IR spectroscopy will see the fastest growth in 2022.
Atomic spectroscopy
Total market demand increased 13.8% in 2021 with growth forecast at 5.2% for the year 2022.
Sample preparation
The market will see single-digit growth in 2022, with the largest segment of growth forecast for drug and biomarker discovery.
Materials characterisation
The materials characterisation market saw a 15.4% growth in 2021 and is expected to grow further in 2022.
The pharma and biotech sectors are again projected to lead market growth.
Logistics issues in the industrial sector and the Covid-19 Omicron variant will hinder market growth in early 2022.
Laboratory equipment
In 2021 the market (encompassing 11 individual technology groups) grew by 10.6%, indicating the sales recovery from the pandemic.
In 2022 it is predicted to grow steadily at 4.6%.
A second blog follows, again based on IBO forecast data for 2022.
IBO is a twice monthly newsletter aimed at providing decision-makers with the latest most complete informational available on the life science and analytical instrument and lab products industry.
To subscribe, click here. For more information about IBO click here. IBO, an SDi publication, is part of Science and Medicine Group, the leading research and advisory firm serving the life science, analytical instrument, diagnostic, healthcare, radiology, and dental industries.
The Scott Partnership provides support to global businesses operating in the life science and analytical instrumentation markets and can help you to penetrate global and local markets, including China, via our international footprint. Please contact us for information or to discuss how we can help with your challenges.