Data taken from Instrument Business Outlook (IBO) Analytical Instrument and Lab Product Industry Forecast.
IBO announced its annual forecast for 2023 which provides detailed market insights for the scientific instrument industry, while looking back on the learnings from the previous year.
Thank you to IBO for sharing its industry forecast in Volume 31: Issue 19, which was published on January 17, 2023. This blog breaks down the macroeconomic environment for the analytical instrumentation industry in 2023 and is based on data from IBO.
2022 review
Despite the effects of the COVID-19 pandemic still being felt a few years after its origin, the scientific instrument industry still recorded positive growth in 2022 of 6.5%. Many sectors' spending was seismic in 2022, particularly industrial, making up lost ground from that market's initial collapse in 2020. Differences between regions were particularly noteworthy due to recessions and macroeconomic issues. Margins of growth in Japan and Europe were shrouded by currency woes, while the US and Canada posted buoyant numbers on par with China. However, India and other Asian countries stole the show, with the continent recording demand surpassing $80 billion for the first time ever.
2023 forecast overview
Overall growth for the scientific instrument industry is not expected to build upon that seen in 2022, with estimated growth of only 4.4% this year. While some sectors such as surface science, life science instrumentation and mass spectrometry (MS) are expected to thrive with demand increasing by as much as 6%, areas such as sample preparation are likely to stagnate. Many factors make growth increasingly difficult, from regulators aiming to squeeze pharmaceutical company profits, to stringent government policies reducing opportunities to innovate. Despite these issues, the life science and biopharma sectors offer the most potential for growth.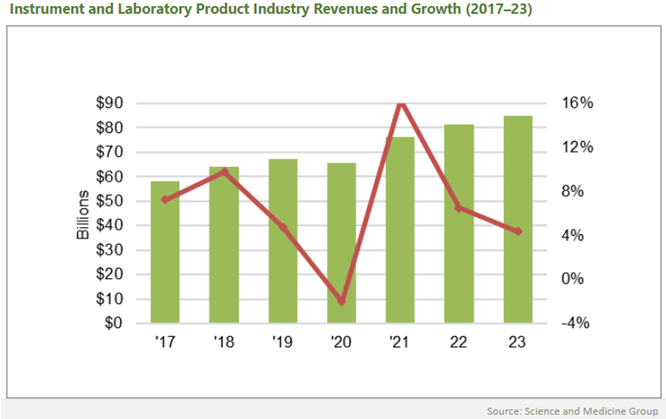 I

nstrument and laboratory product industry growth


Instrument and laboratory product industry revenues
Life science: pharma and biotech
IBO predicts a global market growth of over 6%, producing an overall value of more than $19 billion.

The hospital and clinical end-markets will continue to fluctuate as demand for COVID-19 testing remains inconsistent.
2023 will be an active year for acquisitions and divestitures.
Mass spectrometry
Innovation and adoption of MS instrumentation will ensure the industry remains robust, with expected growth in the mid-single digits.

Interest from the pharma, biotech and academic sectors will drive growth for quadrupole liquid chromatography (LC)/MS, time of flight (TOF) LC/MS, Fourier-transform (FT)/MS and ion trap instruments.

China and North America will lead regional growth.
Chromatography
The chromatography market is expected to reach more than $13 billion in 2023.

The rise of oligonucleotides, peptides, messenger RNA (mRNA) and other novel modalities is expected to continue in 2023 and drive purchases of LC instrument upgrades, bio-inert instrumentation and purification systems.

Demand for small molecule instrumentation will remain stable due to the prominence of chronic diseases.
Automation
The sector is anticipated to grow to more than $7 billion as labs seek high-throughput technologies like liquid handling and lab software.

Critical component shortages and supply chain issues will urge companies to focus on informatics and software licensing.

Biomarker analysis and liquid handlers will lead the push for growth.

One of the fastest growing areas for automation in 2023 will be informatics for genomic and sequencing applications.
Surface science
The market for surface science techniques is expected to grow more than 6%.

High inflation and interest rates will lead to tightening budgets for labs and increased costs for vendors, reducing new initial-system purchases.

Service demand will remain steady, and consumables will benefit from improving supply chains.
Molecular spectroscopy
The market is set to expand by around 4%.

Pharma and biotech are expected to be key drivers of growth.
Atomic spectroscopy
The industrial end-markets are expected to be more stagnant.

Semiconductors and electronics will be outliers due to the construction of additional capacity to avoid future component shortages.
Sample preparation
Demand is projected to be muted following a two-year period of rapid growth driven by research into pandemic-related vaccines and therapies.

Supply chain concerns are expected to lessen.
Materials characterisation
The sector will experience growth of low single digits.

The oil and gas end-market is currently thriving due to higher energy prices, but this may be short-lived if recessionary effects reduce demand and suppress prices.
Laboratory equipment
Demand is expected to grow by more than 3%.

The North American and Western European markets are expected to decline in the first half of 2023, while the Chinese market will likely see improvement after changes to the country's COVID policies.
IBO is a twice monthly newsletter designed to provide the most reliable information available on the life science, analytical instrument and lab products industries. To find more about IBO click here.
IBO, a Strategic Directions International (SDi) publication, is part of Science and Medicine Group, the leading research and advisory firm serving the life science, analytical instrument, diagnostic, healthcare, radiology, and dental industries. SDi will publish its latest report, "2023 SDi Global Assessment Report: The Laboratory Analytical & Life Science Instrumentation Industry," later this month, providing in-depth details on each of the above market segments.
The Scott Partnership supports life science businesses worldwide and can help you to penetrate global and local markets, including China, via our international footprint. Please contact us for more information about how we can help combat your challenges.