A scientific approach to media relations
As in any partnership, communication is key to a strong business relationship. By definition, communication is the imparting or exchanging of information by speaking, writing, or using some other medium. When it comes to media relations (the relationship that a company or organisation develops with journalists and editors) effective communication is crucial.
Communication Breakdown
Navigating the world of media relations can be challenging. I've been working in the field of advertising, marketing and communications for nearly 10 years and it still amazes me how people working in this industry can fail to communicate effectively.
Wikipedia defines media relations as "working with media for the purpose of informing the public of an organization's mission, policies and practices in a positive, consistent and credible manner." Here at The Scott Partnership we apply a more scientific approach to media relations which helps to ensure our clients' messages are always represented in a positive, consistent and credible way.
The below graphic outlines our scientific approach to media relations in 9 essential steps: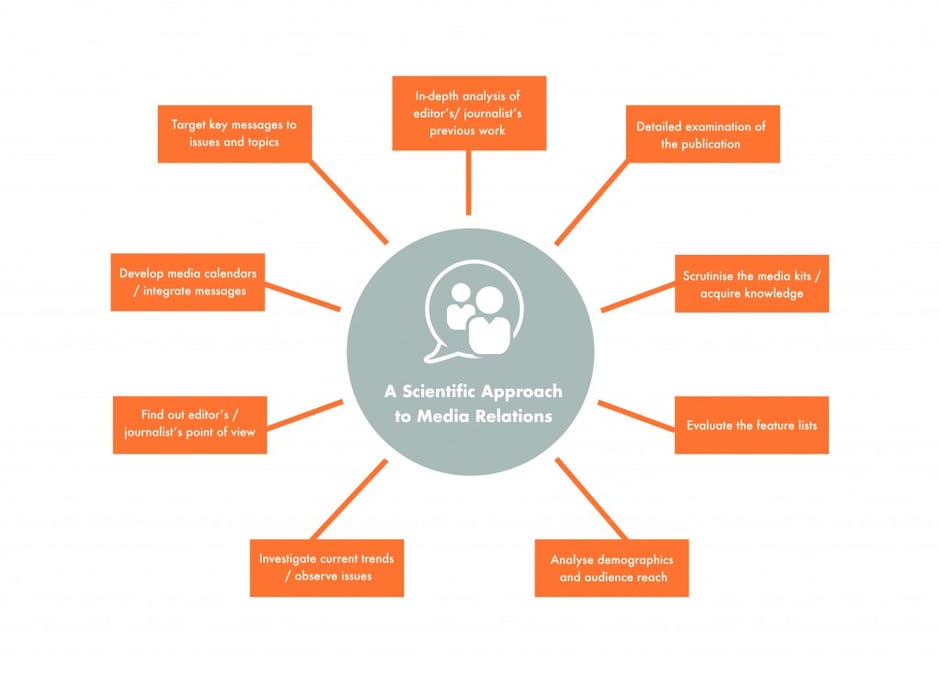 Our proactive, thoughtful and targeted approach might not be rocket science; however ensuring you communicate effectively with the media is not always easy. First impressions count and it's crucial to identify newsworthy stories that will be of interest and relevance to who you are pitching to. Speed is very important too, especially in today's online social media era where everything is instant. Our philosophy is really quite simple:
Customer Service
Timing
Deliver on promises
Never let editors down
Ultimately, our approach is designed to maximise positive coverage for our clients whilst ensuring impact on a local, national and international level as required.
Happy Talk
Excellent customer service is at the heart of everything we do and this transcends beyond the satisfaction of our clients to ensuring the media are happy and satisfied with the experience of working with The Scott Partnership too. The real value comes with building relationships with key journalists and editors over time. If you can give them information, news and comment that helps them to do their job then you will develop a reputation as a contact that adds value.
Why get media ready?
To ensure:
Effective communications to build your reputation with the market
Delivery of clear and consistent messages in support of your business goals
Contacts and leads
Lead nurture
More sales
Think about what you want to communicate to the media. What's the story? For instance:
The launch of a new product
Opening new premises
Financial results
Event attendance
Award wins
Do you need a media relations program?
The media get their information from multiple channels – news is everywhere. To ensure your next big story gets the attention it deserves from your target audience, you need to have a strategy in place to ensure your key messages are picked up by the media both online and offline to increase awareness and drive a perception of your business. With our experience of what will grab the media's attention and our extensive network of editor and journalists working in scientific communications, you can trust us to deliver your story successfully on a local, national and global scale. We can also we can help train your teams on what to say (and what not to!) when talking to the media and help you create engaging, shareable and unique content.
Do you need help with your media relations?
The Scott Partnership prides itself on the following:
We're immersed in the media you need to know, reading magazines, journals, newspapers, blogs and online/digital media every day
We do our homework, can identify a story and know how to pitch it best
We know how to work with the media – sometimes thinking like a reporter helps
We act quickly, respond in a timely manner, manage deadlines and facilitate control over what is published
We have established effective long lasting relationships with journalists and editors – many rely on The Scott Partnership as a valuable resource with contacts
We know the media – who they are – where they are – and what they want and we're aware of best practice in media relations
Acting as first point of contact for all media enquiries for our clients
Connecting on a daily basis to the media environment and aware of trending information
Compiling media lists, feature lists and identify areas of interest
Measuring and monitoring the effectiveness of media relations
Thanks to our established relationships with editors on key publications for the scientific, technology or industrial industries, we have a track record of delivering highly successful media relations programs (and it's not just about press releases!). To learn more visit our media relations page.
If you would like to learn more about our media relations programs and what the media can do for you please get in touch via business@scottpr.com or speak to a member of our team on +44 1477 539 539. We also offer media training and courses on preparing to talk to the media.