Some of the TSP team had the privilege of attending this year's Euromar (the European Magnetic Resonance Congress), witnessing a diverse range of research that will shape the future of sustainable energy, food security and healthcare. Euromar has been a prominent event in the field of magnetic resonance (MR) since 2004 and serves as a platform for researchers, scientists and industry professionals to come together and explore the latest advancements in MR technology. Over the years, Euromar has evolved into a thriving community event, attracting attendees from all over the world.
MR owes its foundations to Günther Laukien, the driving force behind Bruker who is recognised for his pioneering work in nuclear magnetic resonance (NMR) spectroscopy. Euromar has become more than just a conference; it showcases exciting applications for MR and offers poster presentations, conference papers, and technology exhibitions.
In this blog, we outline the key topics and themes that help us continually grow our scientific knowledge, so let's dive in…
A vibrant atmosphere
Held in Glasgow, UK, this year's Euromar brought together three generations of MR specialists under one roof, all passionate about the possibilities MR brings to human life and industry. It was clear at this year's event, that research using NMR into new materials can help design of new battery technology, providing sustainable energy to power the next generation of electric vehicles, and uncover insights into brain function, supporting research into Alzheimer's disease.
A key standout is the passion of the delegates – whether they have been working with MR for 50 years or five, they all 'fall in love' with the technique, with many of the community discovering MR in their undergraduate years and being hooked from that day onwards.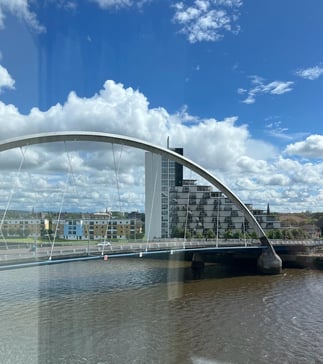 Key topics and themes
Euromar 2023 gave a comprehensive insight into the vast application potential of MR. From benchtop and low-field MR to bio-NMR, theory and computation electron paramagnetic resonance (EPR) / electron spin resonance (ESR), the conference offered insight into a wide range of innovative work. Here are some of the key themes covered during the event:
Materials science – given the urgent demand to meet the world's climate change goals, many scientists are focusing their research on materials science, especially in sustainable energy. NMR and EPR provide many benefits to study electrode materials in batteries, such as characterizing local structures in a non-destructive manner. Researchers also presented their work on material characterisation, such as polymers, nanoparticles, and catalysts.
Small molecule / drug discovery – As always, pharma was a hot topic at Euromar, with speakers covering everything from glycans and lipids to ligands and proteins. Novel techniques, such as pure shift NMR to improve spectral resolution and applications were discussed, highlighting the role of MR in accelerating the drug pipeline.
Metabolomics – MR is helping the scientific community to gain a deeper understanding of metabolic pathways and disease mechanisms as it simultaneously provides structural and quantitative information, for the identification of unknown metabolites. The study of small molecules and their interactions in biological systems received considerable attention, with more than 16 plenary talks, due to the wide range of multi-nuclear and multi-dimensional techniques NMR offers for analysing complex samples.
Poster presentations
Euromar opens the floor for PhD and post-doctorate students to share their thesis research and papers with the rest of the community and especially promotes early career stage engagement to support new and emerging talent across all sectors of MR. Over 100 students gave flash talks during the five-day event showcasing work from some of the brightest emerging minds in MR technology and innovation.
Prize talks
Presented at Euromar, this year's winners of the renowned Ernst Prize are Professor Lucia Banci of the Magnetic Resonance Center (CERM), University of Florence, for her lecture on in-cell NMR and Dr. Jack Freed from Cornell University, United States, for his lecture on ESR and biophysics.
Other notable abstracts that were presented at Euromar:
Spinlocked electrons: From electron-electron distance measurements to dynamic nuclear polarization – Dr. Nino Wili at Aarhus University, Denmark
Distance distribution information for ensemble structural biology – Professor Gunnar Jeschke at ETH Zürich, Switzerland
Resolution and selectivity: new methods in small molecule NMR – Professor Gareth Morris at University of Manchester, UK
Hyperpolarized 13C NMR metabolomics at natural abundance - Professor Patrick Giraudeau at Nantes Université, France
Solid-State NMR of Pharmaceuticals and Plant Cell Walls – Professor Steven Brown at University of Warwick, Coventry, UK

Final thoughts
Ultimately, Euromar 2023 proved to be a remarkable event that brought together the MR community from all over the world. The conference showcased the latest advancements, research findings, and applications in the field, fostering innovation and collaboration. From insightful presentations and engaging poster sessions to lively discussions and networking opportunities, Euromar provided a platform for professionals to exchange knowledge, inspire one another, and shape the future of MR.
We would love to hear about your own exciting experiences at Euromar. Share with us the highlights and memorable moments that made the week so insightful.
Next year's Euromar will take place in Bilbao, Spain – we can't wait to see you there.
Get in touch to see how we can support your business growth.