Analytical instruments industry 2020 forecast
Data taken from Instrument Business Outlook (IBO) Analytical Instrument and Lab Product Industry Forecast: 2020 report
2019 was a year of uncertainty for many reasons, from trade difficulties between the US and China to ongoing questions surrounding the UK's exit from the EU, but the analytical instruments industry exceeded the IBO 2019 Industry Forecast for growth, and is set to carry on this trajectory in 2020.
An estimated 5.4% industry growth in 2020 is predicted to result in total revenues of just over $70 billion globally. This summary of the newly published IBO 2020 Industry Forecast takes a look at the likely drivers of this growth and which sectors are making their mark in the industry.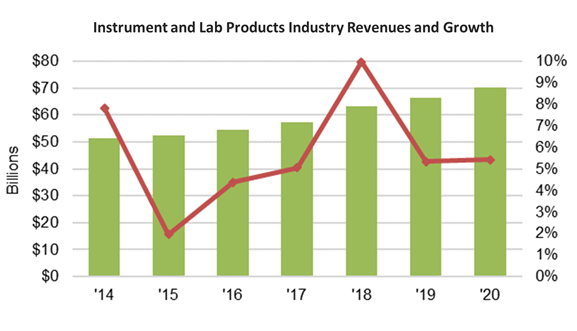 The life science market, which is comprised of 13 individual technology segments, represents the largest portion of the analytical instrument and lab products industry, and is expected to see similar growth of around 8% in 2020 as it did in 2019, bringing total revenues to over $19.3 billion.
Healthcare continues to drive growth for many life science technologies, as demand for precision medicine rapidly expands. This is driving growth and propelling innovation in the pharmaceutical & biotech and hospital & clinical sectors.
We've outlined IBO's insights for key technology segments:
Mass spectrometry (MS)
The MS market grew strongly in 2019, and demand is expected to continue to grow modestly in 2020.
Demand from large molecule pharma labs is predicted to drive strongest growth in LC/MS, Q-TOF, Orbitrap and MALDI-TOF systems.
IBO provides interesting insights on the impact of changing demands from chemicals and oil & gas sectors.
Chromatography
The chromatography market is experiencing a lower than expected growth rate due to the increasing macroeconomic effects of trade wars and Brexit.
Analytical HPLC remains the most significant technology, with its market growth supported by the pharma & biotech sector, and clinical HPLC is predicted to be the fastest growing segment in 2020.
The shift of food testing from public to private labs is thought to have caused a slump in the market in 2019, but continuing investment in drug discovery, of which HPLC is an essential technology, contributes to its growth.
Lab automation
Growth for the total lab automation market it expected to slow slightly from 2019, and will be fuelled by increase in diagnostic tests for infectious diseases, cancer, respiratory ailments and gastrointestinal pathogenesis.
The need for high-throughput analysis, sample tracking and data analysis has driven growth of many end-market segments.
Surface science
Optical microscopy and electron microscopy constitute the greatest market share, with confocal and advanced microscopy representing the largest growth in 2019-2020.
Growth in 2020 will be propelled by new applications such as life science imaging, as well as investments by microelectronics and semiconductor companies.
Molecular spectroscopy
UV/Vis spectroscopy has the largest share of the market, with growth being largely driven by environmental testing applications as well as the pharmaceutical & biotech sector.
Despite recent slowdowns in its domestic market, molecular spectroscopy demand will continue to be strong from China.
Atomic spectroscopy
Total market growth is expected to improve in 2020 from 2019, with ICP-MS showing the strongest growth.
New materials, particularly for batteries and other types of energy research, are driving research applications in both academia and industry and X-ray diffraction is thought to be important here.
Materials characterization
Despite the ongoing trade war that has clouded the outlook for the chemicals and semiconductor industries, growth in particle characterization will be driven by increasing demand for environmental testing, especially for air pollution monitoring.
Growth in several technologies, such as thermal analyzers, calorimeters, particle characterization and petroleum analyzers, was slower than expected due to the chemical and oil & gas industries' mild performances.
General analytical techniques (GAT)
In order of market share, the GAT segment is made up of:
Lab balances
Electrochemistry
Dissolution testing
Radioactivity
CFA & discrete analysers.
Dissolution testing will benefit from growing generic drug production across several regions, while radioactivity will be pretty much stagnant due in part to aversion to radioactive waste.
Lab equipment
Demand from pharmaceutical & biotech will be the main growth driver for lab equipment sales in 2020.
Demand for lab centrifuges will be driven by high-speed units and sales in developing regions.
Transfection product demand will be driven by CRISPR applications.
Global outlook
While the start of 2020 was overshadowed by the conflict between the US and Iran, as well as ongoing political unrest in the Middle East, Hong Kong, Venezuela, and other parts of South America, the analytical instruments industry is likely to maintain its growth. The Japanese market continues to gather steam, and the Asian market generally continues to generate the most rapid growth in demand for scientific instrumentation.
The International Monetary Fund (IMF) has attributed some of its negative estimates of world growth to a "sharp deterioration in manufacturing and global trade", which could be detrimental for instruments used in industrial sectors, such as the automobile industry. In a positive spin, however, the impacts of situations such as climate change and aging populations on global GDP are often addressed by instrumentation, providing some opportunities for growth in this industry.
Your market, your insights
Although there is no crystal ball to say for certain which sectors will grow or which technologies will fall, detailed market forecasts such as this provide valuable information to help you evaluate your performance alongside the rest of the industry, and measure your success throughout the year.
We work closely with clients in many of the segments outlined in the report to better communicate with their complex audiences to grow awareness, change perceptions, generate demand and ultimately, grow market share. Our business can support you globally with services into China, Europe and North America.
To buy the full report, click here. For more information about IBO click here.
To find out more about communicating with global laboratory markets, contact us.