A prediction on the emerging trends likely to shape the next year in pharma manufacturing and outsourcing.
Data taken from CPhI report: Pharma Trends 2021: The Emerging Trends Likely To Shape The Next Year For The Pharmaceutical Manufacturing And Outsourcing Sectors
CPhI has published a new report outlining major and emerging trends that key pharma experts predict will be prominent in 2021. The report identifies twelve trends that pharmaceutical manufacturers and outsourcers see as likely to impact the year: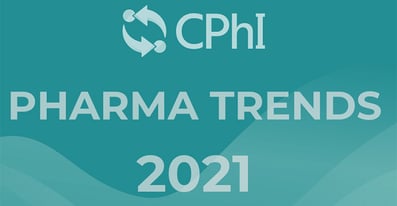 1. Supply chain resilience to take precedence
The impact of COVID-19 on the pharmaceutical supply chain put the spotlight on the huge reliance on Chinese and Indian suppliers, affecting the availability and distribution of drugs. This led pharmaceutical manufacturers and outsourcers to question whether production of such drugs should be reshored back to the US and Europe.
With the uncertainty of how long the pandemic will disrupt, companies are now looking at alternative methods of sourcing materials. A theory of dual sourced supply chains - the practice of establishing at least two sources for key ingredients to have fallback options in case of outages – will be key going into 2021.
2. Pandemic accelerates digital transformation of API sourcing and trading
Within the active pharmaceutical ingredient (API) sector, companies were forced to shift current behaviours due to the pandemic. The inability to meet in person has meant procurement and sales experts had to quickly adopt digital workflows, such as e-commerce channels and remote auditing.
The heightened travel restrictions have meant that freight markets will continue to be affected in 2021 due to the low capacity and high utilisation of transport. API sourcing and trading has in turn become much more expensive for companies, and the adoption of these innovate digital workflows offer commercial value and accessibility for users.
3. Supply chain security
As we all saw in the news, the headline focus was on the gaps in the pharma supply chain. Thanks to the meticulous planning of the industry, it had prepared for such emergencies and the distribution of medicines was mostly unaffected. The mitigation of risks is key to global pharma companies.
2021 will be when those companies build on the resilience they have endured throughout the pandemic and further de-risk their supply chains. By continuous monitoring of potential problems and predicting the outcomes at the current pace will enable the acceleration of access to affordable medicines.
4. Cure vs. treatment model shifts CDMO from volume to value
In recent years, the contract development and manufacturing organization (CDMO) has seen a shift in its activity from volume to value. This model means that there is a huge demand at launch with many patients being treated, which then tails off over time as the patient population is cured.
The usual CDMO model is therefore being turned on its head and in 2021 pharmaceutical manufacturers will have to mirror this new trend, which is different to the continual volumes typically seen. How CDMOs and the customers they serve will adapt to this new shift of cure vs treatment is likely to take centre stage in the coming year.
5. Breakthrough for continuous manufacturing of APIs
Enticed by the advantages of throughput maximisation, by having the manufacturing process running 24/7 until the project volume is complete, continuous manufacturing for APIs is seen to be on the rise. However, the initial cost of investment for large scale operations can be astronomical and this seems to be the barrier for entry.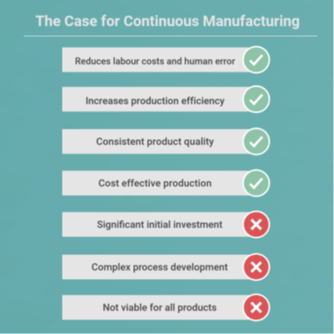 6. COVID-19 vaccines to take centre stage
As the scale-up for vaccinations continues, it is expected that global vaccination will not be achieved until the end of 2022, which makes this the ramp-up theme across the board for 2021. By 2022 it is expected that 2.5 billion courses will be manufactured per quarter. In the week ending 17th January, in the UK the total number of vaccinations given was almost four million (NHS COVID-19 Vaccination Statistics, 2021), showing the scale-up to reach the global coverage needed.
7. COVID-19 vaccine distribution
2021 sees the challenge between timings of vaccination and loss of life. The need to improve and use all global manufacturing capacity can bring forward distribution by months. United global coordination and investment will be a major contribution to successful improvement in local, national and global supply chains.
8. Industry fight against antimicrobial resistance
Antimicrobial resistance (AMR) remains one of the world's biggest health crises. It is estimated that by 2050, deaths due to AMR could rise to 10 million if nothing is done. The AMR Industry Alliance, set up to tackle the issue, is working with companies and manufacturers to address AMR and also to minimise the risk of antibiotics getting into the environment.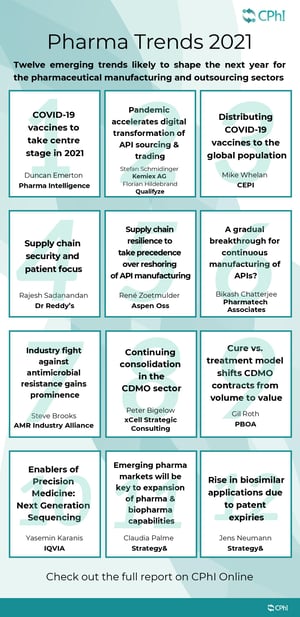 9. Enablers of precision medicine: Next generation sequencing
Oncology is a large part of many pharmaceutical companies' research and development and is always at the forefront of innovations in precision medicine. Although there have been breakthroughs in the diagnostic space in 2020, it is predicted that there is still a lot more that can be done. Powerful diagnostic tools will match the complexity of the treatment landscape.
10. Continuing consolidation for CDMOs
Merger and acquisitions (M&A) activity picked up in 2020 and will continue to move at a quick pace throughout 2021. The growth towards strategic partnerships in CDMOs is increasing and COVID-19 is driving growth in injectables manufacturing. This may pave the way for what CDMOs offer in terms of pandemic management services.
11. Emerging pharma markets key to expansion of capabilities
For most countries, a well-established and thriving pharmaceutical industry is seen as a priority in economic growth. This was even more evident in 2020, as it created a sense of urgency to be self-sufficient in terms of essential medicines.
This means that in 2021, we could see more development in emerging markets from the Middle East to Sub-Saharan Africa becoming hubs for innovation and development in the pharmaceutical industry. These countries have begun to invest and put regulations into place, that prior to COVID-19 were not seen as priority.
12. Rise in biosimilar applications as patents expire
In 2020, there have been several expiries in biologics patents, and there are more to come in 2021. While this would usually create a boom in biosimilar applications, it is more likely that the money that would have been directed at these applications will be used for COVID-19 associated products in the short-term.
It is likely that bigger biotech players and large generics manufacturers will continue to have the edge in 2021 especially in developed economies, for the development of biosimilars.
About CPhI: Each year CPhI unites more than 100,000 pharmaceutical professionals through exhibitions, conferences and online communities to network, identify business opportunities and expand the global market. Hosting events in Europe, China, Korea, India, Japan, South East Asia, Middle East and North America, CPhI co-locates with ICSE for contract services, P-MEC for machinery, equipment and technology, InnoPack for pharmaceutical packaging, Bioproduction for biopharma and FDF for every aspect of the finished dosage supply chain.
Thanks to Gareth Carpenter for allowing us access to the CPhI report: Pharma Trends 2021: The Emerging Trends Likely To Shape The Next Year For The Pharmaceutical Manufacturing And Outsourcing Sectors, which you can access here.
The Scott Partnership works closely with clients in many of the segments outlined in the report to better communicate with their complex audiences to grow awareness, change perceptions, generate demand and ultimately, grow market share. Our business can support you globally with services into China, Europe and North America.
To find out more about communicating with global pharmaceutical markets, contact us.